Help Queen of Peace Productions and Stella Mar Films promote Where There Is Darkness, a documentary about Catholic priest Fr. Rene Robert and his plea from beyond the grave to save his killer's life.
---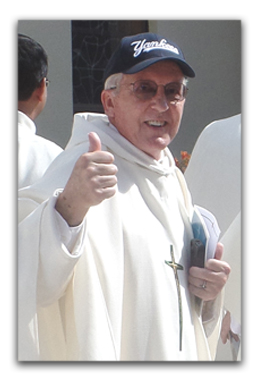 It wasn't like Fr. Rene to miss a Church service…
So when he didn't show up to officiate a funeral on April 12, 2016, people got worried.
After Fr. Rene failed to answer subsequent calls to his cellphone, his friends reported him missing, setting into motion a frantic search that led investigators to suspect the worst.
Described as a "living saint," Fr. Rene Robert was a beloved figure in the tight-knit community of St. Augustine, Florida—a humble Catholic priest with a special place in his heart for people cast aside by the rest of society.
Police suspected foul play early on in Fr. Rene's disappearance, and the local sheriff put some of his best detectives on the case to help find his missing friend.
Days later, 28-year-old Steven Murray was spotted driving the priest's blue Toyota Corolla.
HOW TO DONATE
You may donate online using a credit card, PayPal, or by check.
Or, you can donate below using PayPal.
Or, feel free to mail a check payable to Queen of Peace Productions. Our mailing address is:
Queen of Peace Productions
317 Riveredge Blvd, Ste 102
Cocoa, FL 32922 USA
Donate by PayPal: